Everything you need to know about the best things to do in Chiang Rai, Thailand.
Although sometimes overlooked by travellers heading to the north of Thailand, Chiang Rai is certainly not worth crossing off your Thailand itinerary.
Located 190km and a 3-hour bus journey from Chiang Mai, it's a city full of a vibrant culture that is guaranteed to have you wishing you could stay longer.
Epic Things to Do in Chiang Rai
The list of things to do could be endless, but here are the top 19 things to do in Chiang Rai during your visit.
1) Join the Tourist Buzz at the White Temple
The White Temple is possibly the most popular attraction in Chiang Rai, but there's a reason for that.
The incredible architecture of Wat Rong Khun is like something out of a beautiful Thai fairy tale, and the details could keep you mesmerized for hours.
It's always at the top of any list of the top things to do in Chiang Rai, so don't miss it.
Best way to check it out is by joining a tour, and this one on Klook includes the White Temple and a visit to a local tea farm.
Opening hours: 8 am-4 pm
Price: 100 baht
READ MORE: For all the best advice and information for travel to Thailand make sure you've read through our Thailand travel guide!
2) Answer Nature's Call in the Most Beautiful Public Toilet
As you leave the White Temple and make your way to the exit, make sure you look to your right.
You'll see the most stunning building which would be easily mistaken for another temple altogether, but in actual fact, it's just the world's most majestic public bathroom.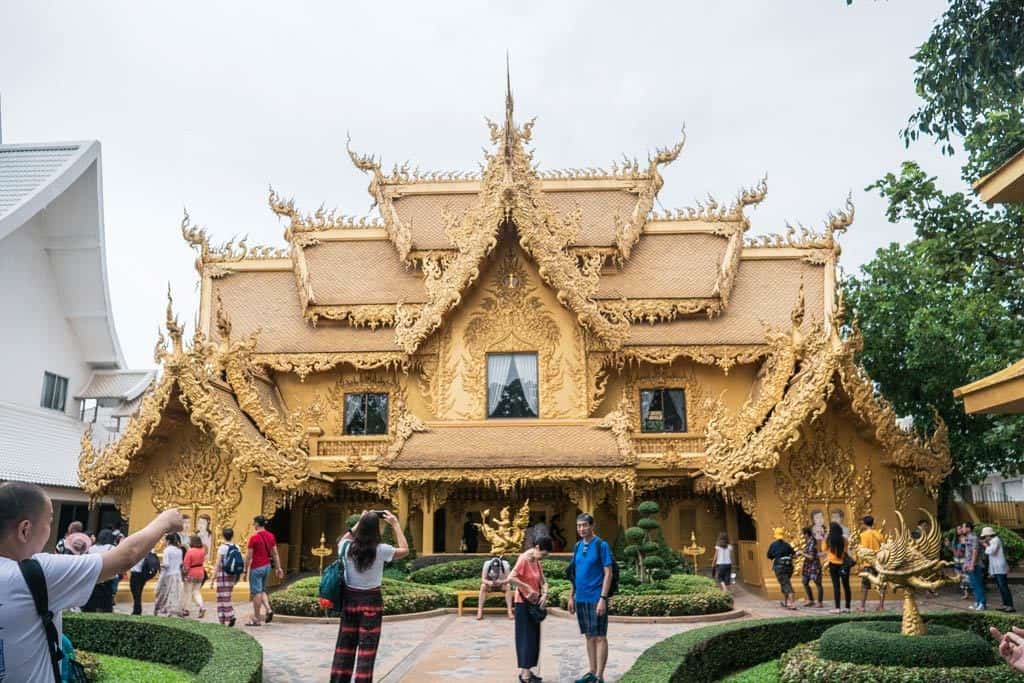 3) Admire 50 Shades of Blue at Wat Rong Suea Ten
Also known as the Blue Temple, Wat Rong Suea Ten is one of Thailand's newer and less established temples amongst tourists.
But I'm sure it won't stay that way for long – its unique and modern design decorated with gold embellishments is truly breath-taking and will soon start attracting even more visitors.
So, make sure you add this to your what to do in Chiang Rai itinerary ASAP!
Only opened to the public in 2016, the temple is full of kaleidoscopic imagery depicting the life of Buddha, with a huge ceramic Buddha shrine at the far end.
Unlike the White Temple, you are allowed to take photos inside, but make sure you're respectful.
To make the most of all the temples, book a guided tour.
Opening hours: 7 am – 8 pm
Price: Free (for now!)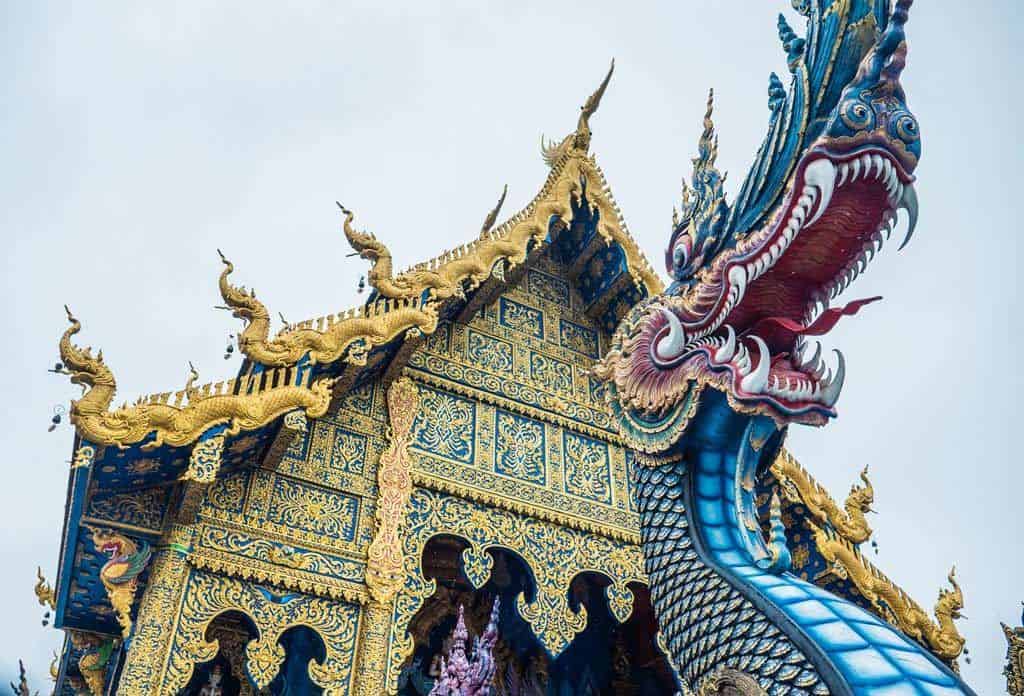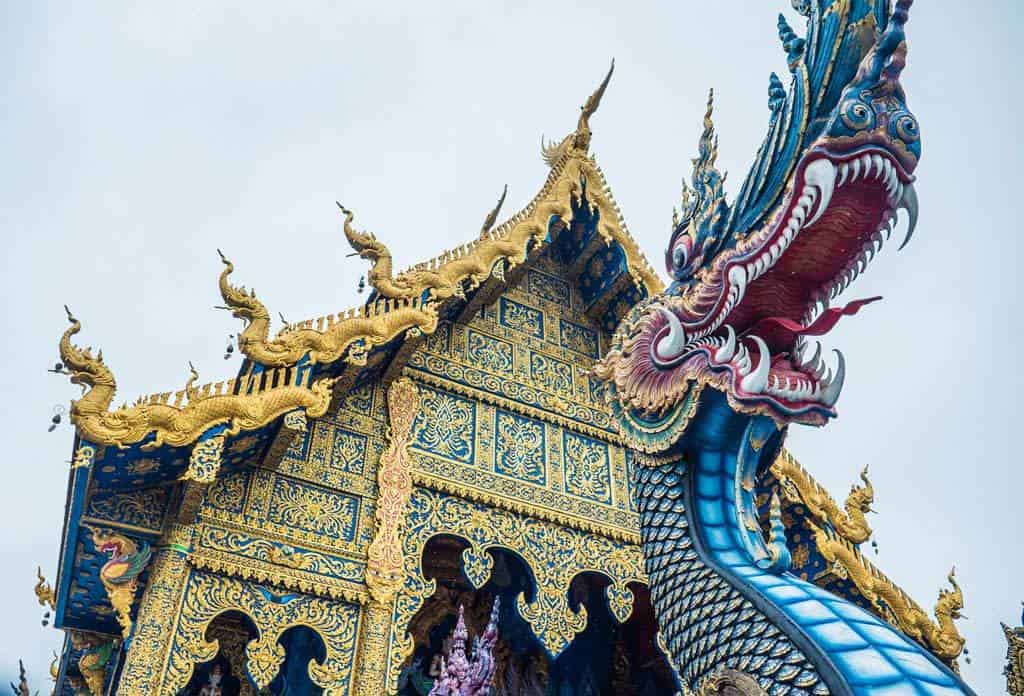 4) Explore the Bizarre Grounds of Baan Dam
Chiang Rai certainly has a thing for colour themes, and here's another – Baan Dam translates to Black House.
Often mistaken as a temple, Baan Dam is a series of modern buildings created by artist Thawan Duchanee.
The interpretive taxidermy and occasional phallic statue may not be your cup of tea, but it's definitely popular with tourists and makes for some interesting photos!
Opening hours: 9 am-5 pm
Price: 80 baht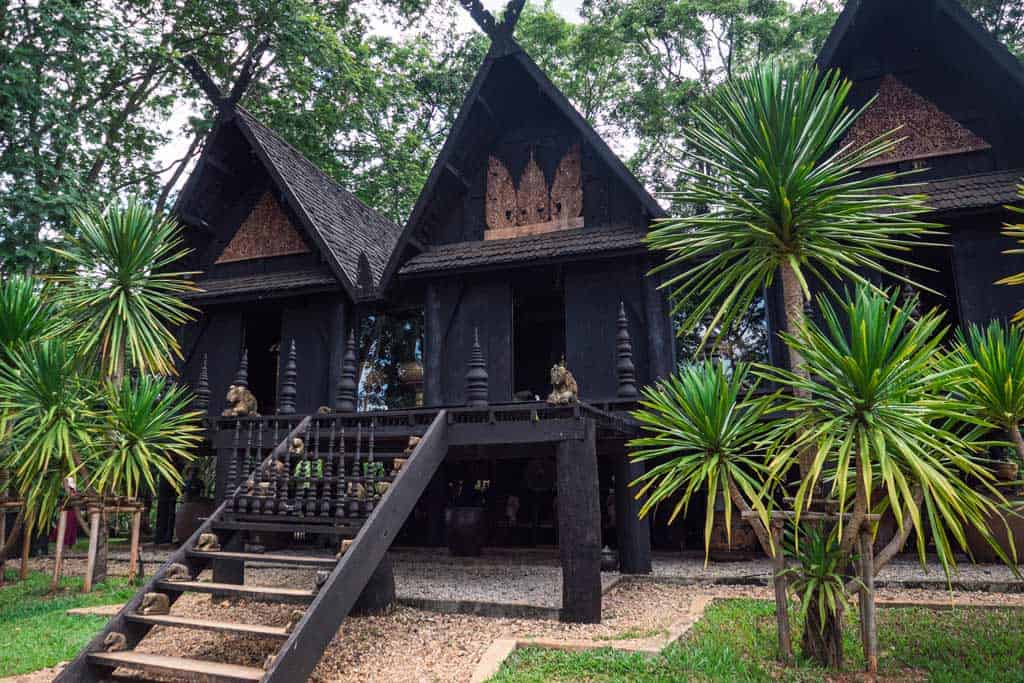 5) 'All Along the Clock Tower'
Situated in the middle of a traffic intersection in central Chiang Rai is an eye-catching golden structure, created by the same mind behind the White Temple.
As if this golden tower didn't stand out enough amongst the very ordinary streets of Chiang Rai's central district, every night at 7 pm, 8 pm and 9 pm, the clock comes alive with a programmed light show.
There are plenty of restaurants and cafés with the clock tower in perfect sight,
To find this, head over to the intersection of Thanon Jet Yot and Thanon Baanpa Pragarn.
READ MORE: Check out the ultimate list of the best places to visit in Thailand!
6) Check Uut the Local Bars
One of the streets leading to the Clock Tower is Jetyod Road. It boasts a succession of bars run by friendly locals, such as Peace Love Bar and Smile Bar.
Fully equipped with pool tables and local drafts on tap, it's the perfect place to meet new people and socialise with travellers and natives alike.
7) Make Friends with the Locals
Chiang Rai was one of my first stops on my 2-month solo trip around Southeast Asia, so it was the perfect chance for me to practice starting up a conversation with people with whom I crossed paths.
I was lucky enough to meet a friendly young Thai man who was insistent in showing me around – it turned out he was a qualified tour guide and I came away with the most cultural and off the beaten path experiences.
While seated at a local restaurant for dinner, I got chatting to a lovely man from California who had moved to Thailand a decade or so ago.
He'd lived in Chiang Rai for a few years and recommended some sights that I wouldn't have known about otherwise.
Remember in 2017 when the Thai boys' football team got stuck in a cave for 10 days?
Well it turns out it's not far from Chiang Rai, and this local informed us that they had just recently been filming a documentary about it, so he advised it would be worth visiting.
He wasn't wrong.
8) Be a Part of Recent History at Tham Luang Cave
'BREAKING NEWS: All 12 boys and coach successfully rescued from Thai cave'.
The world watched as a group 12 to 17-year-old boys and their football coach were trapped in a waterlogged cave for 18 days in June 2018.
Even with the death of an ex-Thai Navy Seal attempting to get to the group, the rescue mission was still dubbed as a miracle.
Little did I know that 12 months later I would be walking in the footsteps of the boys, their coach and all of the 2,000 soldiers and 200 divers involved the rescue.
For obvious reasons, the cave is still closed.
But a small museum and statue in tribute to Saman Kunan, the diver who died due to lack of oxygen, have already been erected.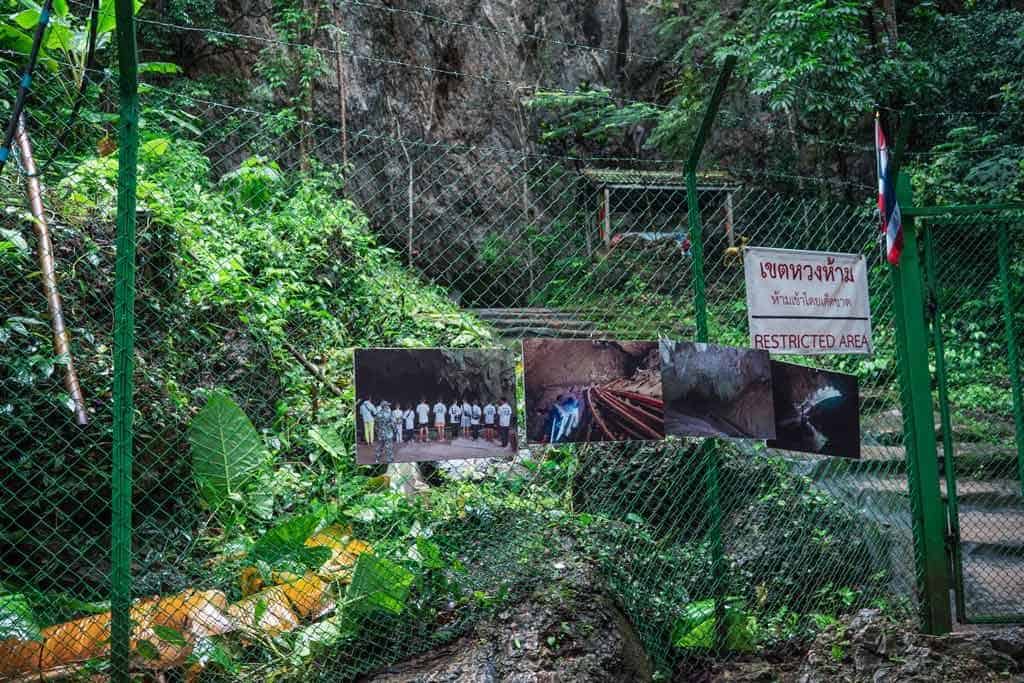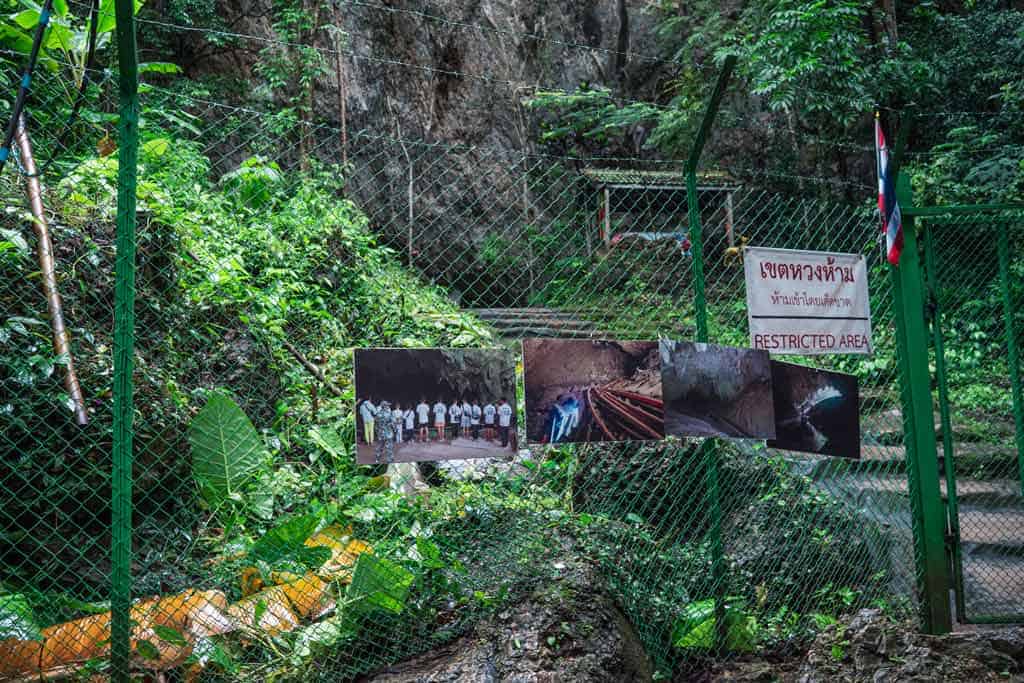 9) Watch the Sun Rise at Phu Chee Fah
Possibly an excursion to miss out if you're tight for time, but the 2-hour drive to the mountains from Chiang Rai is so incredibly worth it.
It's possible that you might be able to book a tour to Phu Chee Fah with the hotel or hostel at which you're staying.
But in the case of wanting your own freedom, it might be worth hiring a private driver to take you – you'll have to leave Chiang Rai at about 3 am to make the sunrise.
Watching the sunrise and the clouds float above the Laos border is an incredible view – one absolutely worth waking up at an ungodly hour.
10) Sample the Local Organic Tea at a Choui Fong Tea Plantation
Choui Fong Corporation is the largest tea supplier in Chiang Rai, and its two plantations are the perfect location to sit back and relax, sipping a fresh cup of tea.
The Mae Chan plantation houses a modern restaurant, café, gift shop and terrace looking out over the 1 million square meters of tea fields.
Opening hours: 8:30am-5:30pm
Entry: Free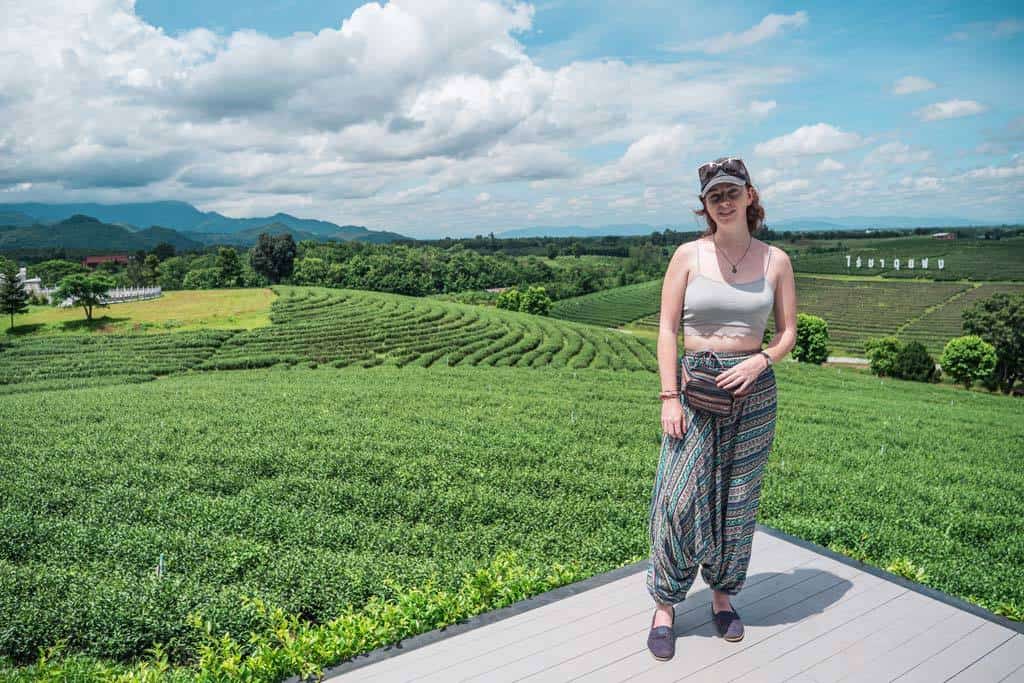 11) Eat Your Way Through the Night Bazaar
Near Chiang Rai's Bus Terminal is a daily market open in the evenings, whatever the weather.
Here you can find handmade souvenirs, cheap food and live music performed by local musicians.
It's separated into two courtyards, one with a restaurant and stage, the other acting as more of a food court.
The Night Bazaar provides an evening of entertainment as well as opportunities to give back to local communities, as some of the vendors even sell products on behalf of the hill tribes.
If you've experienced night markets in Chiang Mai, you can expect a smaller scale and fewer tourists, which is always a bonus.
12) Enjoy the Weekend Walking Streets
Saturday nights are when Thanalai Road comes alive. By closing the road off for pedestrians for a few hours, Chiang Rai's Saturday Walking Street becomes a hub for street food, locally made clothes and other souvenirs.
Going to miss the Saturday night market? Have no fear; San Khong Noi Road is open to shoppers on Sunday nights with a huge selection of food stalls, a stage for performers and a buzzing atmosphere.
READ MORE: Be sure to look into the best things to do in Koh Phangan when you're in town!
13) Discover Chiang Rai's Waterfalls
Chiang Rai is the perfect place to take a refreshing dip after a long hike through the humid jungle. Some are more accessible than others, with some not having any public transport access.
A list of waterfalls and their distance from Chiang Rai's centre:
Khun Korn Waterfall – 32km
Huay Mae Sai Waterfall – 21km
Huay Kaew Waterfall – 25km
Pu Kaeng Waterfall – 65km
Pong Phrabat Waterfall – 14km
14) Warm Up in a Hot Spring
The closest hot spring to Chiang Rai's town centre is Pong Phrabat Hot Spring.
It's recommended that you could combine this with a visit to Pong Phrabat Waterfall as these aren't far from each other.
You also have Huay Mak Lium Hot Spring which is located in a beautiful picturesque forest. Unfortunately far too hot to swim in, with a temperature of 65 degrees Celsius!
There are other hot springs situated further outside of Chiang Rai, such as Fang Hot Spring which is around a 2-hour drive from the city centre.
15) Overlook Everything the Light Touches at the Golden Triangle
An hour north from Chiang Rai is the border where Thailand, Myanmar and Laos all meet.
The Golden Triangle is definitely popular with tourists. But if you have a local taxi driver like I did, he might take you up to the higher viewpoint that has fewer people and (in my opinion) better views.
As Myanmar and Laos didn't feature on my trip, at least I could say that I caught a glimpse of them.
Another good option is to take a tour that includes the White Temple and exploring the Golden Triangle. This one on Get Your Guide is the best available on the market.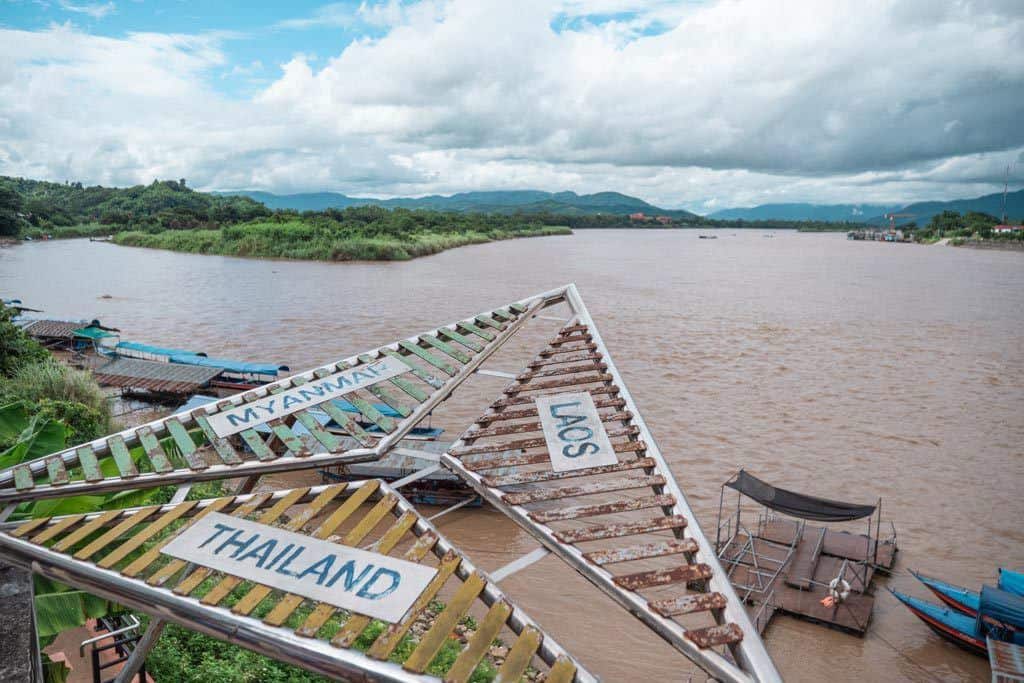 16) 'Monkey Around' at Wat Thlam Pla
A great stop-off on your way back from the Golden Triangle is the Wat Thlam Pla (translating to FishTail Temple).
Don't let the name fool you – yes, there is a large pond with plenty of fish swimming around.
But these temple grounds are also home to hundreds of monkeys.
You can spot these mischievous creatures climbing the rooves of the temples and food stalls as they try to sneakily steal any scraps of food that they can manage to get their hands on.
(The locals aren't scared to use their brooms to scare them off – but the monkeys are stubborn!)
Don't let the monkeys distract you too much.
If you head to the left and climb around 300 steps, you'll make it to Fish Tail Cave (where the name actually comes from).
There's also Turtle Cave which is nearer the main entrance but often missed.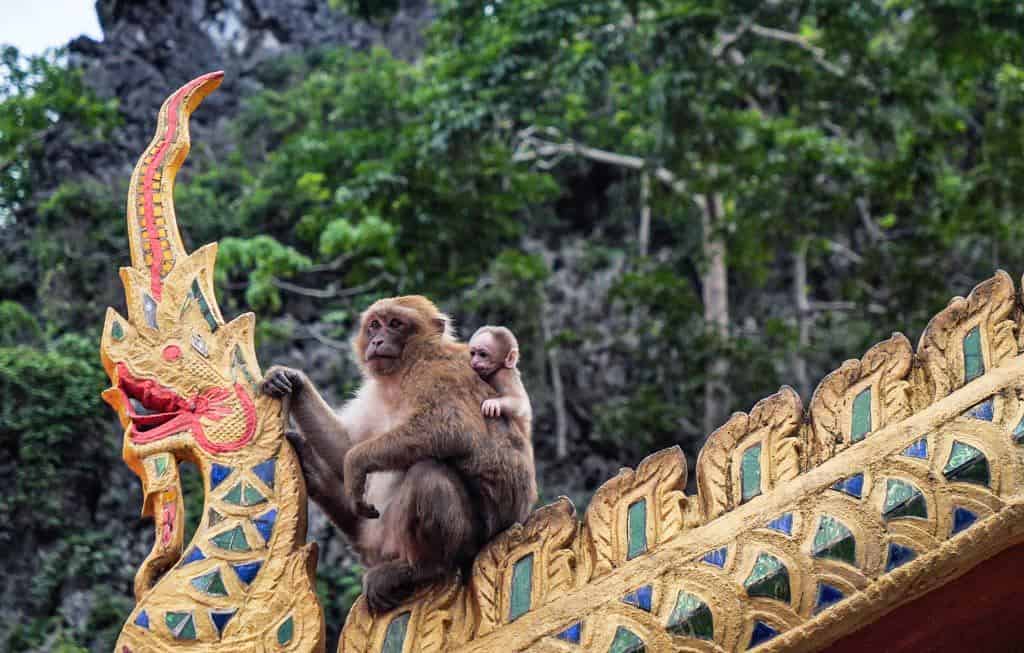 17) Wander Through the Doi Tung Palace and Gardens
The royal mother of King Bhumibol, Princess Srinagarindra, had this Swiss Chalet-style palace built in 1987.
It's open to the public and tour guides are available, although photography is prohibited inside.
The grounds of the palace include the Mae Fah Luang Garden, a gorgeous array of colourful flowers spread across 16,000 square metres.
Opening hours: 7 am – 6 pm
Entry: 90 Baht
18) Get Sky High at Doi Tung Tree Top Walk
So, admiring mother nature from the ground isn't enough for you?
We've got you covered. For an extra 150 baht, you can take to the skies and walk amongst the trees above the Palace grounds, overlooking the jungle.
If you're afraid of heights or swaying bridges, you may want to sit this one out. But if you're up for being strapped to a harness for half an hour, it's a fun adventure.
Opening hours: 8am-11pm, 1pm-5pm
Price: 150 baht
19) Sail along the Mae Kok River
Thailand is known for its famous longtail boats, so what better way to get from A to B?
The 130km long Mae Kok River runs all the way from Chiang Mai through Chiang Rai and up to Tha Thorn.
You can catch a long tail boat from Chiang Rai pier.
Prices will vary depending on how far along the river you'd like to be taken, and what you'd like to see.
DISCLAIMER: Some of the links in this article are affiliate links, which means if you book accommodation, tours or buy a product, we will receive a small commission at no extra cost to you. These commissions help us keep creating more free travel content to help people plan their holidays and adventures. We only recommend the best accommodations, tours and products, and regularly review these. Thanks for your support, kind friend!