Turkish residents are turning to cryptocurrency and gold as the nation remains in the grip of rapidly rising inflation rates.
Inflation Rates Soar
Over the years prices in Turkey have shot up gradually. However, June marked the highest increase the nation has seen in nearly a quarter-century. At the moment, Turkey's statistics institute places the annual inflation rate at 78.62%. The agency recorded a 4.95% increase from May's 73.5% inflation rate.
Various factors have contributed to the skyrocketing prices. These include the high cost of food and energy, the sharply declining national lira, and the Russia-Ukraine conflict. Turkey is not the only nation battling rising costs; Denmark, Sweden, Norway, and Finland are in similar situations. 
In addition, the European Central Bank is set to bring up the interest rates, a first for the institution in over a decade. However, Turkish President Recep Tayyip Erdogan has repeatedly expressed his distaste for this particular course of action. Erdogan has declined to defend against inflation by raising interest rates, dubbing such a move "the mother of all evil."
Turks Turn to Bitcoin
Hence, the lira has continued to fall, and working-class Turks are well aware of the effects of this. With this in view, more residents might be using cryptocurrencies as a hedge against inflation. Regional peer-to-peer exchange LocalBitcoins reported a significant trading volume among Turkish users. According to LocalBitcoins, trading volumes have surged in recent months compared to last year's. This is also despite the struggling crypto market.
Notably, in quarters 1 and 2 of this year, Bitcoin peer-to-peer trading volume in Turkey took big leaps.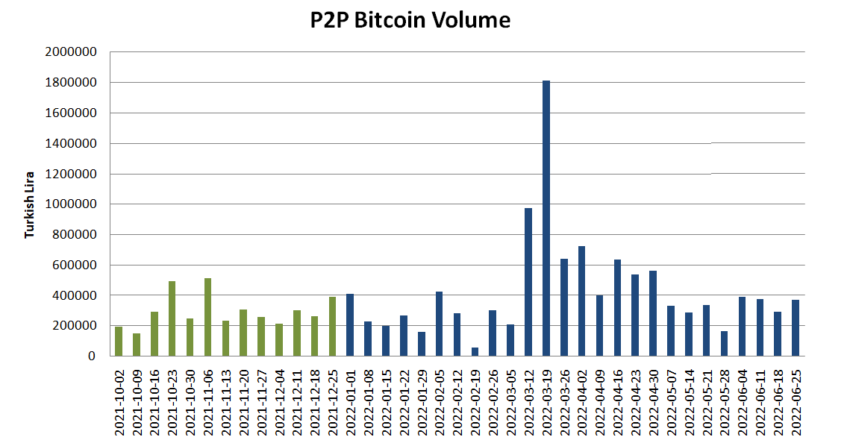 The first 3 months of this year saw LocalBitcoins experience a 51% rise in trading volume from Q4 of 2021. Moreover, Q2 of 2022 started with a 40% increase. These figures point to a definite increase in interest in digital tokens on the part of the public to retain fiscal security. 
Gold as a Hedge in Turkey
Cryptocurrencies are not the only form of assets slowly gaining usage in Turkey. Back in February, the Turkish government introduced home-based gold savings into the financial system, to kick back inflation.
Turkish residents have since received encouragement to bring their "under the mattress" gold, to banks and jewelers. According to the government, the pertinent assets total 5000 tons, worth about $250-350 billion. The gold-conversion bank accounts offer users risk-free incomes and they can take back their gold if they wish. 
While there are concerns that Bitcoin might be losing its case as a reliable hedge, the Turkish government hopes gold might reinforce the national economy and lighten the load on the financial system. 
Stay up to date with our latest articles